Discussion Starter
·
#1
·
The Jaguar XE was crowned Best Compact Executive at the annual Auto Express Awards at a ceremony in London last night, while the all-new Jaguar XF picked up the prestigious Design Award.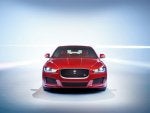 Auto Express Editor-In-Chief Steve Fowler said: "There are few sectors as competitive as the compact executive class so it's testament to Jaguar that its new XE wins the Auto Express Best Compact Executive Award for 2015. It's beaten multi-award winning rivals to take the title, impressing us with its sense of occasion, its efficiency, its technology and the fact that it's just great fun to drive. It's a compact exec without compromises."
The Jaguar XE only arrived in retailers in June but has already amassed an impressive collection of gongs including Car of the Year and Best Business Car at the Telegraph Awards, Best New Car at the Fleet World Awards and Best Large Car at the Diesel Car Magazine Awards.
The all-new Jaguar XF also had a successful evening, winning the Design Award following a poll of Auto Express readers. Arriving in retailers in late August, new XF will offer unrivalled refinement and dynamics, as well as the lowest CO2 emissions of any non-hybrid model in its segment.
Steve Fowler said: "It's not even out yet, but the new Jaguar XF has already caught the eye of Auto Express readers who've voted it winner of our annual Design Award. This is a big year for Jaguar with the XE on sale, the XF coming soon and the F-Pace just around the corner. That Ian Callum's designs are getting the thumbs up from our readers bodes extremely well for the brand."
Both awards were collected by Ian Callum, Jaguar Director of Design, who said: "It's been an incredible evening for Jaguar. With XE, our aim was always to do more than just compete with the established segment leaders - we wanted XE to move the game on, to be the best. Winning Best Compact Executive shows that's exactly what we've done.
"The all-new XF presented a serious design challenge. The existing car already looked modern, handsome and elegant, we wanted to reinvigorate the XF without losing any of its identity and I believe we've achieved that. I think it's the best looking car in its class and I'm hugely honoured that the readers of Auto Express agree."