Discussion Starter
·
#1
·
The Jaguar XE redefines the concept of the sports saloon and will be the driver's car in its class. Its lightweight construction, streamlined styling, luxurious interior and outstanding ride and handling are testament to company founder Sir William Lyons' vision: 'The car is the closest thing we will ever create to something that is alive'.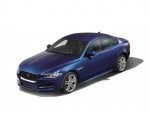 The rear-drive XE is the only vehicle in its class to use an aluminium-intensive monocoque. This extremely robust yet light structure, together with double wishbone front suspension and an Integral Link rear axle, is fundamental to the XE's innovative benchmark vehicle dynamics.
Jaguar's world-leading expertise in aluminium structure engineering enables exceptional fuel consumption and emissions figures: with the new Ingenium diesel engines, the XE can achieve 75mpg and 99g/km CO2 - the most efficient Jaguar ever. Powered by the supercharged 3.0-litre V6 petrol engine from the acclaimed Jaguar F-TYPE, the XE S is capable of 0-60mph in just 4.9 seconds.
"The XE's driving behaviour fully matches the promise of its seductive looks, and the emotional appeal is supported by state of-the-art approaches to efficiency, from aerodynamics to the advanced Ingenium engine family."
Kevin Stride, Vehicle Line Director, Jaguar XE
The aluminium-intensive Jaguar XE is the first model developed from Jaguar Land Rover's new modular vehicle architecture. The long 2,835mm wheelbase and low seating position enable perfect proportions and a streamlined profile.
The cabin offers outstanding levels of comfort and spaciousness. Exquisite materials and finishes combined with Jaguar craftsmanship make this a class-beating interior that's unlike anything else in the segment. Jaguar's new InControl infotainment system takes centre stage: its innovative 8-inch touchscreen brings fast, intuitive access to all features and functions - and iOS and Android smartphone apps.
The XE has some of the most advanced driver assistance systems available. All Surface Progress Control (ASPC), developed through decades of Jaguar Land Rover experience in off-road traction systems, can electronically gain traction in seconds and is ideal for use on low-grip surfaces, such as snow-covered roads.
Laser projection technology enables the XE's optional head-up display (HUD) to generate sharp, high-contrast colour graphics (such as vehicle speed and navigation) from a module smaller and almost a third lighter than existing systems, retaining clarity even in direct sunlight.
A forward facing stereo camera is mounted behind the front windscreen to give the XE a 3D view of the road ahead: this highly accurate data is used for functions including autonomous emergency braking and a lane departure warning system.
The XE is the stiffest, most aerodynamic Jaguar saloon car ever built. It is also the first Jaguar to be equipped with electric power steering, tuned to provide exceptional responsiveness and feel but with lower energy consumption than hydraulic systems. The XE also offers the lowest cost of ownership and most environmentally sustainable credentials of all Jaguar models.
Manufacturing of the aluminium-intensive Jaguar XE occurs at Jaguar Land Rover's Solihull plant in an all-new facility. Part of a £1.5bn investment, this flexible, purpose-built site will create 1,700 UK jobs.
The XE now completes the Jaguar saloon car range, sitting below the XF and XJ model lines.