Discussion Starter
·
#1
·
I took delivery of my XE mid-August. A month later I've clocked over 3,200 miles and averaged 56 MPG. Here's my review of the car, what I like, what I least like, and the options I wish I'd included when I placed my order.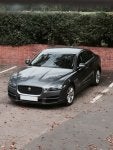 First Impressions
Well, I'm delighted with my colour choices and the Prestige styling. There's something about Ammonite Grey too: the hue changes with weather and scenery. The standard 17" twin-spoke wheels look great, and so does the black / tan interior. In hindsight I just may have ordered the chrome grill. But first impressions are "wow, that's is a nice looking motor!"
Jump into the drivers seat and I notice that the Prestige dash is quite different from all the other models I'd seen. It's not wrapped in vinyl. I thought it would be the same as the R-Sport and Portfolio, but without the contrast stitching. Instead it has a soft texture finish that matches the grain in the leather seats. Overall, I like its understated design. The driving position is very good and there's bags of room upfront: I'm just under 6'4" and long-legged.
Press start and the 2.0l diesel fires up in an instant. In Eco mode I had to depress the accelerator more than expected to move this beast ... I'll return to this later. At idle the engine is muted. When cruising it's nothing more than a distant rumble. The cabin is quiet: tyre and wind noise is kept to a minimum ... it's really hushed. Indeed, it is easy to exceed the speed limit in those early XE days because it "feels" slow whether you're in a 30mph zone or cruising on the motorway.
Comfort and Ride
Drive 200 miles and you're going to get tired. In most cars I've driven that far I feel fatigue. Not in the XE. No aches. No tension. The 10 way seats are comfortable and have plenty of adjustment. The 14 way option is better, but they're not available on the Prestige. The ride is great. It's assured and confident yet manages to smooth out the bumps. There's nothing harsh about the XE's ride unlike some of the German counterparts I've driven.
As I said, the driving position is very good. Cocooned but not claustrophobic. Forward visibility is good. Rear is restricted. But with those looks that can be forgiven. Door panels almost reach shoulder height, giving the impression you're seated lower than you really are. I like it, but it takes a while to get used to the tiered design. For instance, placing your elbow on the door feels unnatural.
Controls are mostly well placed. Switching between driving modes could be better; it's not possible without taking your eyes off the road. The steering wheel is the best I've had. It's the same as those used in the F-Type and I think it is better than the one found in the XE R-Sport. Initially I wasn't overly impressed by the steering wheel controls. However, after driving over 3,000 miles I have come to appreciate the angular switches. They are tactile by design.
Driving
I love this car! It eats the miles on those long business trips. I usually set the car to Eco and cruise at 76 ... I reckon that's a true speed of a little over 70. If you need to pass someone, put your foot down and she'll breeze past before returning to the preset speed. Switch to "red" and the car lights up! The Performance setting tightens up the steering, and adjusts throttle and gearbox. It's not as quick as a comparable Volvo S60 D4 (on paper), but it's more fun, more responsive and exudes confidence. The power is put down evenly and lasts a long time. In many ways it reminds me of a motorcycle. It's all too easy to keep going.
But, Dynamic doesn't suit towns or small country lanes. Fortunately there's the "Normal" setting. Dynamic need space. Normal doesn't. It's great through country lanes, tight bends and undulating roads. In contrast, Dynamic is thrilling on A-roads, fast roundabouts and out-of-town orbital roads.
Earlier I mentioned the throttle in Eco mode. More travel is needed before power comes through. I think this is intentional. When cruising your foot can cover the accelerator without overriding cruise control. But this does introduce a little "lag" when you need to pull away. I've got used to switching between Eco and Normal on busy motorways and congestion hotspots ... it's much easier to get into the "right spot" when using "Normal".
Controls and Infotainment
There's been quite a lot of discussion around the the infotainment system. I've got the standard audio and think it is pretty good for in-car. In fact I thought the Median system sounded a little artificial; it sounds like audio filters are used to give an impression of "high end" sound. If I want hi-fi or audiophile quality I'll find that at home not when travelling on tarmacadam. The good news is that the sound definitely improves over time.
My music source is a USB3 SSD drive with properly tagged VBR ("extreme") MP3s. I'm still converting my albums from FLAC, and so far, it takes no more than a couple of seconds to load up all 300 or so albums. The only issue is that tracks are listed alphabetically and it's not possible (or I haven't worked out how) to play an album from track one.
The SatNav is ... a little disappointing. It lacks features, is hard to find places without first Googling for a postcode, and has some annoying traits: too many voice prompts and a strange road naming convention. I've turned off voice prompts. The XE also appears to use free-to-air TMC. That would be fine if it weren't for unreliable data issued by the Highways Agency and Traffic England. I'd have expected a premium brand to use a commercial TMC service. Also, the marketing lead me to believe that I could set a destination on my mobile and transfer it to the car. That's not the case ... you'll need to use another mobile-based app for that.
Since I'm on a roll I should also mention that the auto wipers aren't as effective as I'd hoped. Occasionally they don't clear the windscreen quick enough. Perhaps I'm nitpicking?
Quality
The XE is a quality car. Mine is built noticeably better than the pre-production models I first saw and the early demonstrators I drove. But, I've had a couple of issues. First, I lost the offside windscreen trim while motoring down the A1(M) a few weeks ago. Jaguar were very quick to get that sorted. And, second I noticed only yesterday that the boot shut is marking the rear bumper. So, a little adjustment is needed. Otherwise, no problems.
Summary
The Jaguar XE is a wonderful car. It's a pleasure to drive and the diesel is pretty frugal, balancing efficiency and performance. It's also a breath of fresh air to see a completely new car on our roads. I really like the Audi's, but in contrast to the XE, they're a little sterile.
So what options do I wish I'd included? Not many. The leather in the Portfolio is gorgeous, but I couldn't afford that model, and to be honest I don't miss the J-blade or bi-xenons ... maybe I'll change my mind this winter? I thought Jaguar's implementation of blind spot monitoring excellent, but I'm an ex biker and still prefer to look over my shoulder. Fifty quid for an air quality sensor ... I miss that. Every time there's some obnoxious smell I think, why didn't I?!
In a fortnight I'm off to Exmoor for a week's break and can't wait to take the car. It's been a long time since I've enjoyed driving this much!