Lol ... I still remember the banter here about our Jaguar footrest (or deadpedal) - or lack thereof prior to even picking up my caR. I remember the pictures and discussion about what constituted a foot rest ... some seemed to get a rubber pad - most got nothing at all (ok, maybe a "bump"
).
Here in the USA we don't even get the aluminum pedals you guys get in the UK and elsewhere, on even our top trim models. We also got the "bump" as standard ... expected I suppose since we only got rubber pedals too.
Well, I went out and got the Jaguar accessory pedals. Bought at a slight discount online for 100 USD delivered. Jaguar owes me ... the caR should have come with them
. Anyway, I went digging around on EBay in the spare parts bin and made my own dead pedal. I wish in hindsight I would have taken more pictures along the way in the process, but if anyone is interested in doing the same I can elaborate on materials and assembly and add a few photos later if anything is unclear.
Anyway, I found this dead pedal on EBay ... it is from a 2013 Nissan GTR R35. These parts seem to be rather rather ubiquitous and easily found. Some model years are more expensive than others ... inexplicable to me since I know nearly nothing about them. I picked mine up for 35 USD delivered. Here is how it arrived. The last pic shows the part number clearly for reference.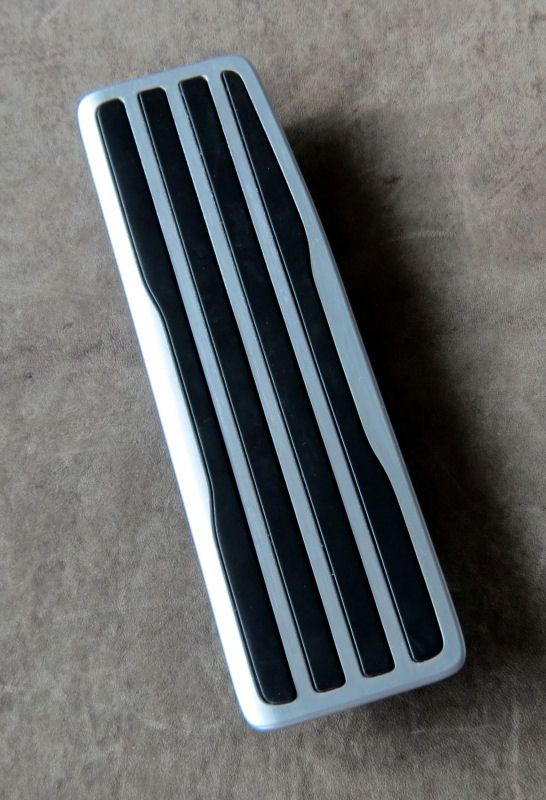 While it may be hard to tell from my crappy photography, the part needed a little cleaning up, but it was never my intention to use it "as is" anyway. It arrived with a little surface corrosion and was actually anodized silver, so it needed a light sanding anyway. I suppose I could have tried to somehow use the clips on the back of the part, but ultimately went with another attachment plan. Here is the part sanded and prepped:
The part is a rather soft cast aluminum ... so I just went over to the old belt sander and did ... well, this: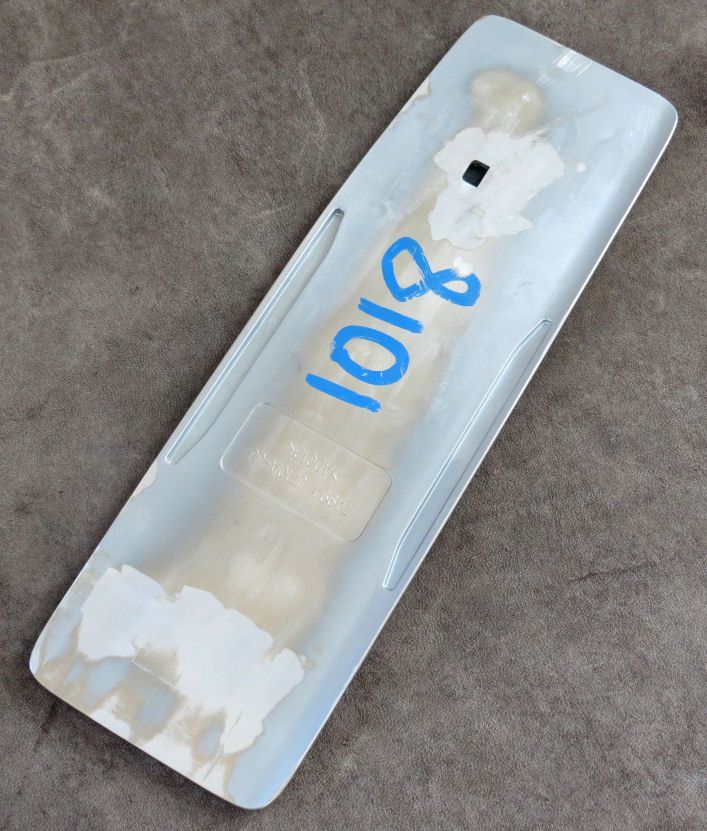 Anyway, here is the set. Not a perfect match but pretty close. I knew once I mounted it in the car it should appear that they were made together. My only disappointment is that the brushing on the pedal kit goes side to side, and for obvious reasons ... maybe a lack of patience or talent on my part, the brushing on my footrest goes up and down. Anyway, her are all my ducks in a row :p ...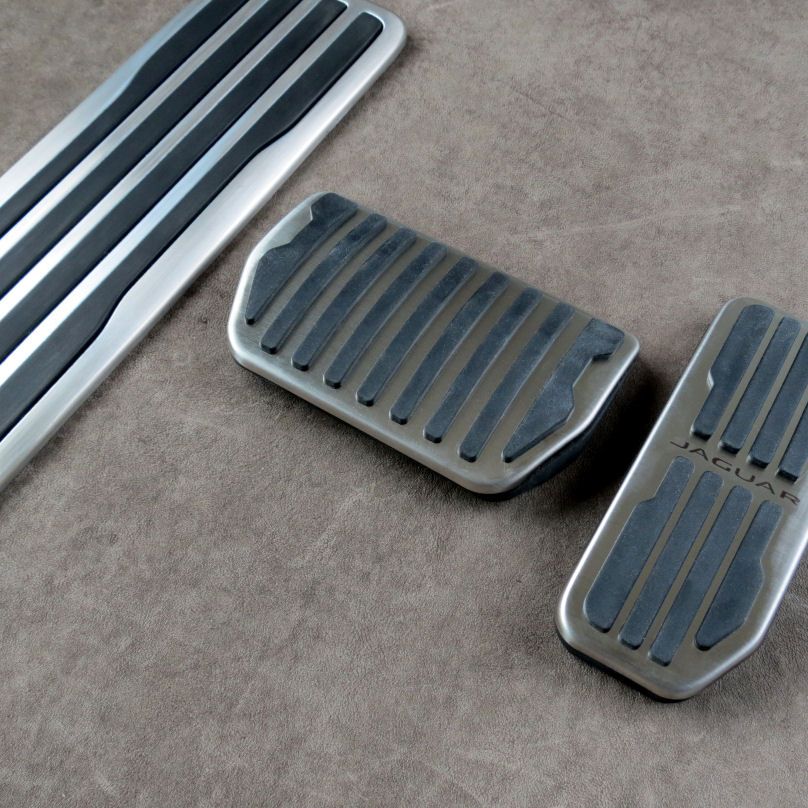 I cut a piece of 1/8 inch thick black ABS sheet stock (8 inches X 2 inches) I had lying around and drilled and countersunk 5 holes in it in an "X" pattern ... then screwed that to the floor roughly where I wanted the pedal with some 3/4 inch long screws. There is nothing under the "bump" to hit and you can actually get the screws to bite into the base of the carpet ... almost feels like soft plastic as you are driving them home. From there I simply used 2-way automotive grade tape and taped the dead pedal onto the plastic. It is actually an incredibly strong mounting method ... I was surprised. There is also a little downturned "lip" on the part that makes the plastic mounting plate invisible from any angle.
Anyway, if you ever want to drive yourself a little bonkers, try doing a little flash photography in your footwell
. Here is everything mounted up. I will caution people that mounting the pedal kit is a challenge. The brake pedal is especially "fun". Mounting the dead pedal was super simple. Now I have a footrest ... and Jag owes me ... again
. I tried one with flash and one without. I may try to get a couple more in the bright weekend sun later ... but you get the idea ...
I suppose you all know that using flash on interior photos can have varying results ...