... and I sure hope she isn't hungry again in an hour
.
I am sure everyone here has read some reviews calling the XE interior ... uninspired. I think most would agree, that while the overall styling is very pleasing, it could use at least a little spicing up.
I am also pretty sure that at least some of us do troll evilbay looking for little toys and trinkets for our caRs.
Well, there is a Chinese vendor who seems to have multiple ID's ... some show as Hong Kong ... and many of the same item are offered - at different prices (so choose carefully ... they are all the same parts from the same source). He sells matte chrome trim pieces for just about every conceivable surface in the XE. Surely if Alice were to take one of everything she would end up looking like some sort of gypsy
. In moderation however, some of these bits are quite tasty.
Everything I ordered fit very very well (with the exception of the park brake trim which is being replaced by the seller). It is all actually molded plastic so it does not end up looking like some stuck on dash kit of the past. I took my time and lined it all up ... it is actually pretty foolproof.
You can pick and choose which parts you think are appropriate ... and it may be pretty easy to take it over the top. The only part I teetered on and ultimately decided against was the trim for the roof console ... because I think the idea of the black on black is to make it "disappear".
My front driver door card looks just a little more "snappy" ...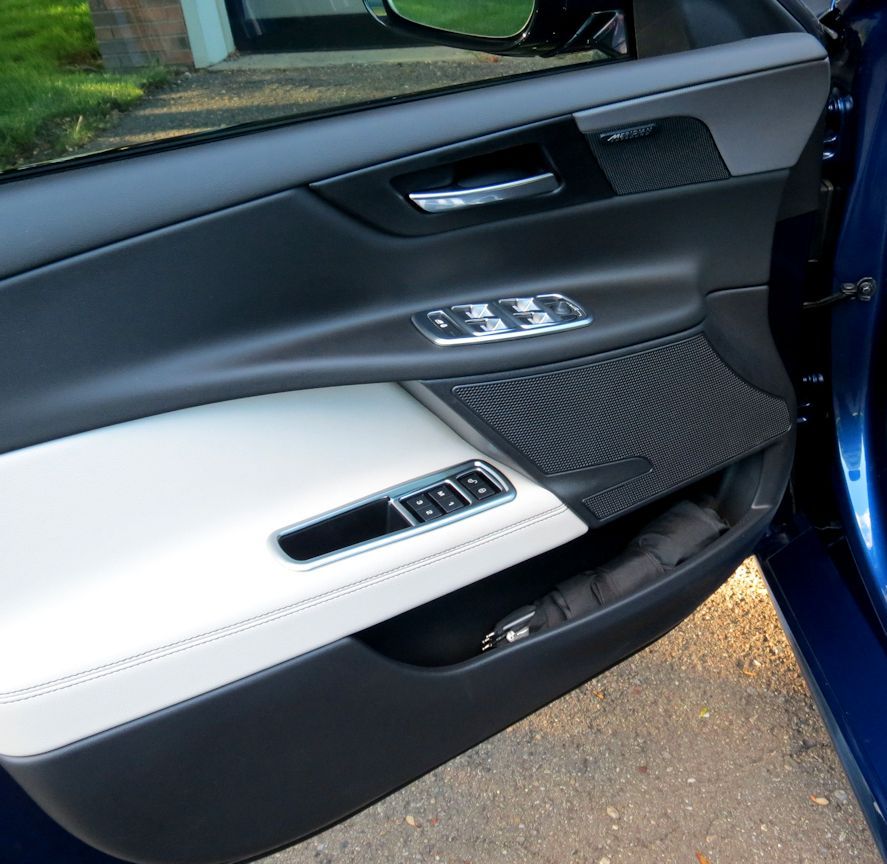 ..., an additional splash of bling on the passenger front door ...
and since Jag REALLY neglected the rear doors on our caRs a little trim seems to help quite a bit here ...
Both front seats got a bit of shine. They actually sell chrome buttons too, but I think they look a bit fiddly. While YMMV, please season to taste. While Alice likes her jewelry her tastes seem to swing a bit on the conservative side
.
... and finally ... from the cockpit Alice is looking pretty svelte. I opted for a piano black steering wheel trim. The F-Type is done this way so I found that a bit inspiring since we have already stolen quite a few parts from her parts bin. They do sell a satin chrome piece for the wheel as well, if you are so inclined you can match the satin chrome cat on your airbag cover instead if you'd like. *WARNING* this was the most finicky part to fit. While the airbag cover does have a groove the trim piece does not find a natural home. You have to leave a small gap all around and then it does fit rather nicely. I peeled off all the backing and LIGHTLY stuck it to the wheel. I actually repositioned it twice before finally sticking it down. It helps to rotate the wheel during installation to make sure the gap is even all around. I find the black to kind of tie everything together since I did not order any special trim like the carbon fiber or any wood. And now:
THANKS PHIL!!!
See Phil's caR here!
You were absolutely correct! The aluminum paddles from a Range Rover do indeed fit our caRs. You can see them peeking out from behind the wheel. This was a great EBay find. The seller was a salvage yard and had them listed for 400 USD OBO. I offered 200 and was declined. I let them sit around for almost 4 weeks hoping no one else would see them. Again I made an offer ... 225 USD and they accepted. Brand new in a (crumpled) box. I am not sure I would spend the 570 Jag wants for them
but for the money I spent I am happy ... and Alice can go on enjoying her mostly Chinese treats.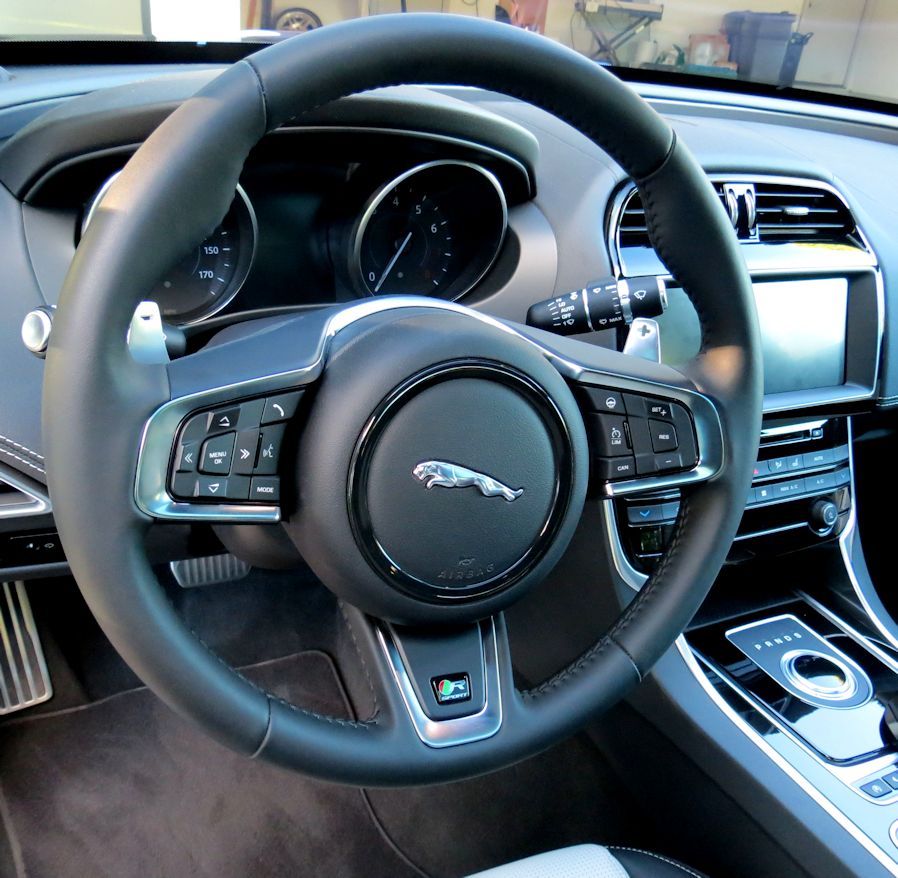 These were the SELLERS pictures:
Now I think the whole interior looks properly ... how do you say it? ... tatted up
. There isn't really anything else I'd add ... but Alice may get bored over time
- but for now we will move to the exterior meethinks.