Ok, last post about parts for the week. Tomorrow is just bath and wax day.
I will start by saying this post is about a weird EBay find that is an add on to my R Sport exhaust tips. I will also say that a few things have to be in place for this to go relatively well. I must also tell you I take no responsibility for the attempted duplication of this, but if you do choose to reproduce it, it should be relatively simple - it just may look a little different depending upon caR to caR variances.
Some may say what I have done is sacrilege
. Positive and negative comments are welcome (as always). I think this may be polarizing. I don't really mind. I am happy with the result ... and my wife has not complained (I'm not even sure she noticed
) so all opinions are welcome.
Finally I would say, if you are in the market for exhaust tips for your XE you need to consider getting some of member
Llowen's
expertly made pieces. I believe he makes them for the plain steel exhaust tips sold in the UK and can also fabricate tips to fit over the factory polished tips like mine. Along with being about 100% better quality and 200% more consistent than Alice's new tailpipe ornaments, you won't be concerned about durability like I am with these. See Llowens offerings here:
Llowen's custom machined exhaust tips
Llowen's sale thread in the Classified Section here
For me anyway, I had some criteria that drove me in another direction. I wanted something sportier ... as my car will eventually go even further in that aesthetic. I wanted something BIGGER ... not like fart can bigger, but something that fills the opening in the valance just a little better while hopefully maintaining the sophistication of the XE. I wanted something that would completely hide the original tips while not requiring me to rip them off or weld something on (which I may do later anyway, but let's go mild for now). I wanted something with a little shape for a sportier feel and just a little pizzazz. The biggest reason I decided to roll my own is that I REALLY wanted to maintain the angle cut on the end of the tip. So, this was my rationale for not going with the proven Llowen tips.
I read this forum early on with admiration. Kudos to the guys who found the uber-cheap Skoda tips which seemed to fit the XE perfectly. They just slid on and cured one shortcoming Jag had left them with if you got the plain steel pipes. Many here seemed to yearn for the polished chrome tips that came on the S models. For this Llowen's solution was perfect.
Alice ... bless her heart. She was both blessed .. and maybe cursed from the factory. She was blessed with perfectly aligned exhaust tips in terms of the way they exit the valance. They are perfectly centered and exactly the same height ... or distance from the valance in the up / down direction. They stick out exactly the same amount rearward as well. Some would say however, she was cursed with some of the longest XE tips I have seen here in pictures or on the net. They protrude quite a bit as you can see from my stock photos below. Not really immediately noticeable in stock form, but it did affect the way this mod turned out. This will add a small amount of length to what you already have. Personally I really like the look, but YMMV.
Anyway, behold. Alices stock tips ... she is kind of like the JLo of the XE world
.
... and the look from the rear. I have even seen some of the cars that Jag had used for display at auto shows that were not as centered and symmetrical as Alice's ...
Soooo, I once again dipped into the Land Rover parts bin. These babies were intended to go on a 2012 - 2016 Evoque. I'm gonna show you the sellers photos first. I had TONS of questions and a lot of worry about how these would fit. Don't ask me why I would even think it would work. For 60 bucks for the pair I could not go far wrong. I was more worried about getting them part way (or worse, all the way) on then discovering that they didn't really fit or I didn't like them. If I had to pull them off the barbs would surely leave marks on the stock tips. I asked a lot of questions, took MANY measurements before attempting to fit them, and ultimately decided to go forward with my little experiment. Sellers photos: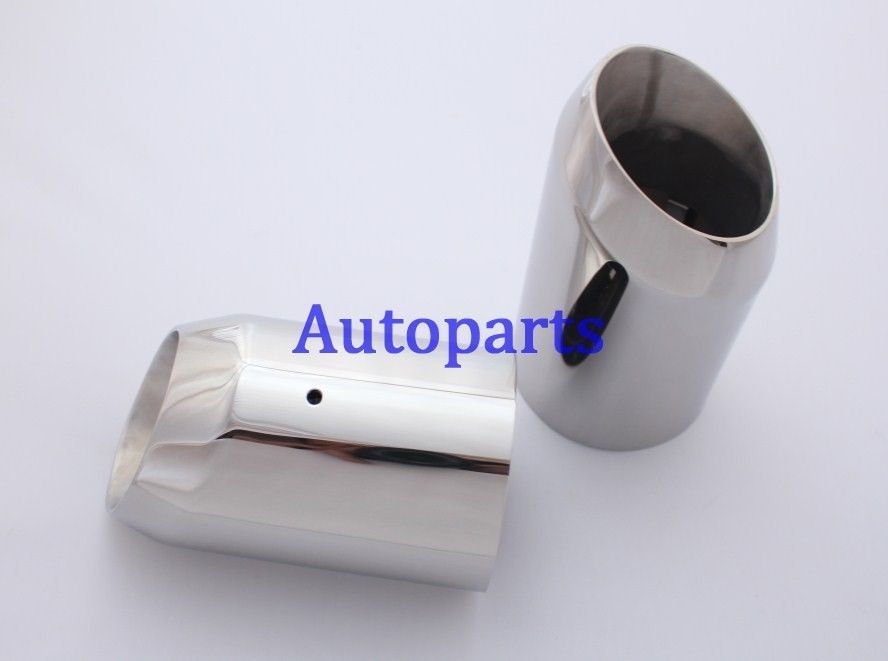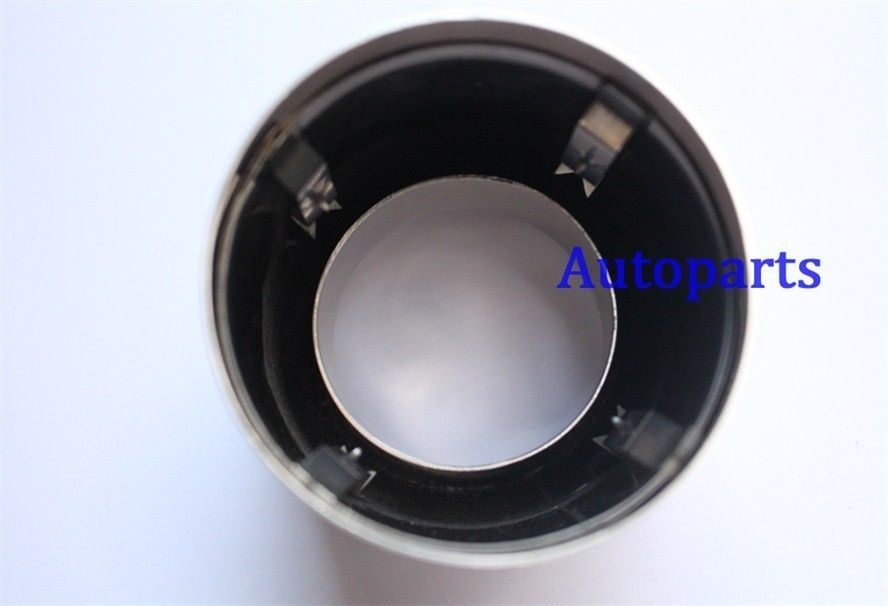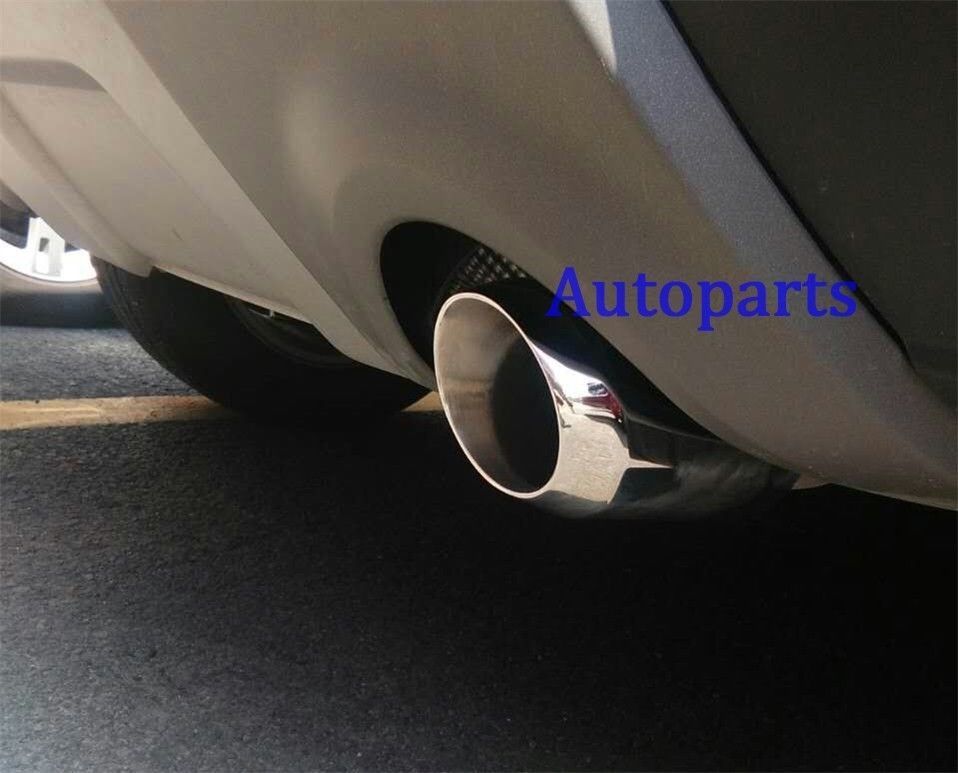 I took the plunge and slid them on. They actually fit perfectly ... like they were made for the job. They went on without any modification or adjustment. They take it up just a notch from the OEM 67mm OD tip to about an 86mm OD tip (at the widest point) exposed. I also had concern that you would see the back edge of the pipe, exposing the fact that they were slide on tips (not a biggie as even custom exhausts are constructed that way). Nope, no sign of that either as the 6 inch length seems to cover that up perfectly, no matter the viewing angle. A few raps with my rubber mallet and they have stayed put.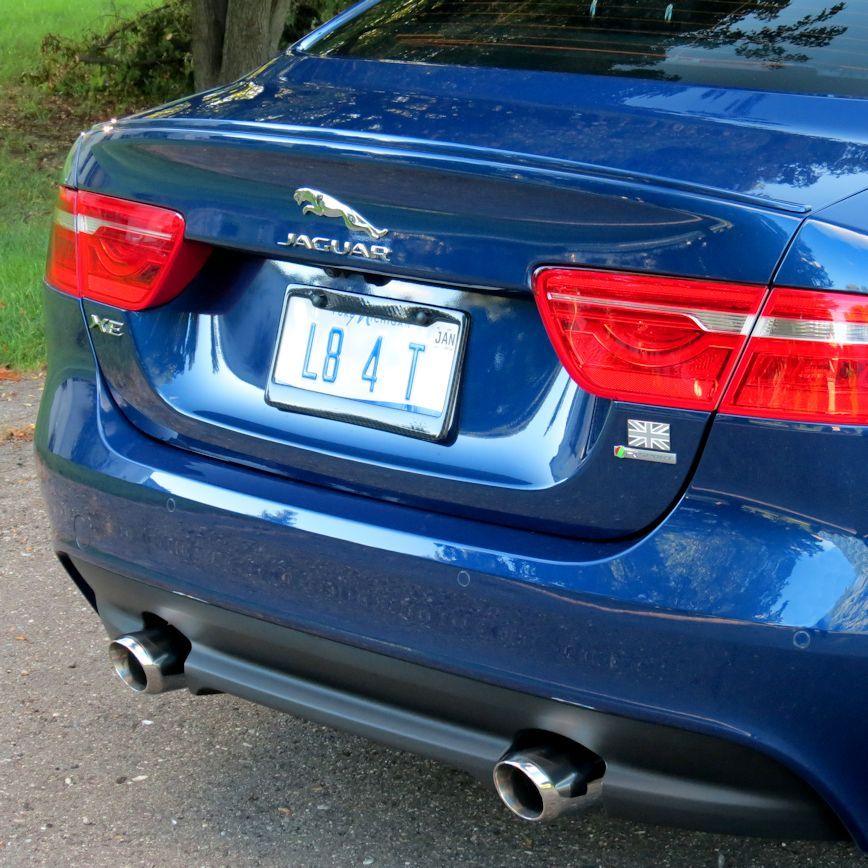 They still stick out a very even amount:
Compare this with the stock photo above. Just a little more meaty than stock without looking like a Honda Accord ...
I really like the perception of thickness with these. I think it adds to the style (and allows the stock tips to slip in between the inner and outer walls, completely hiding them) .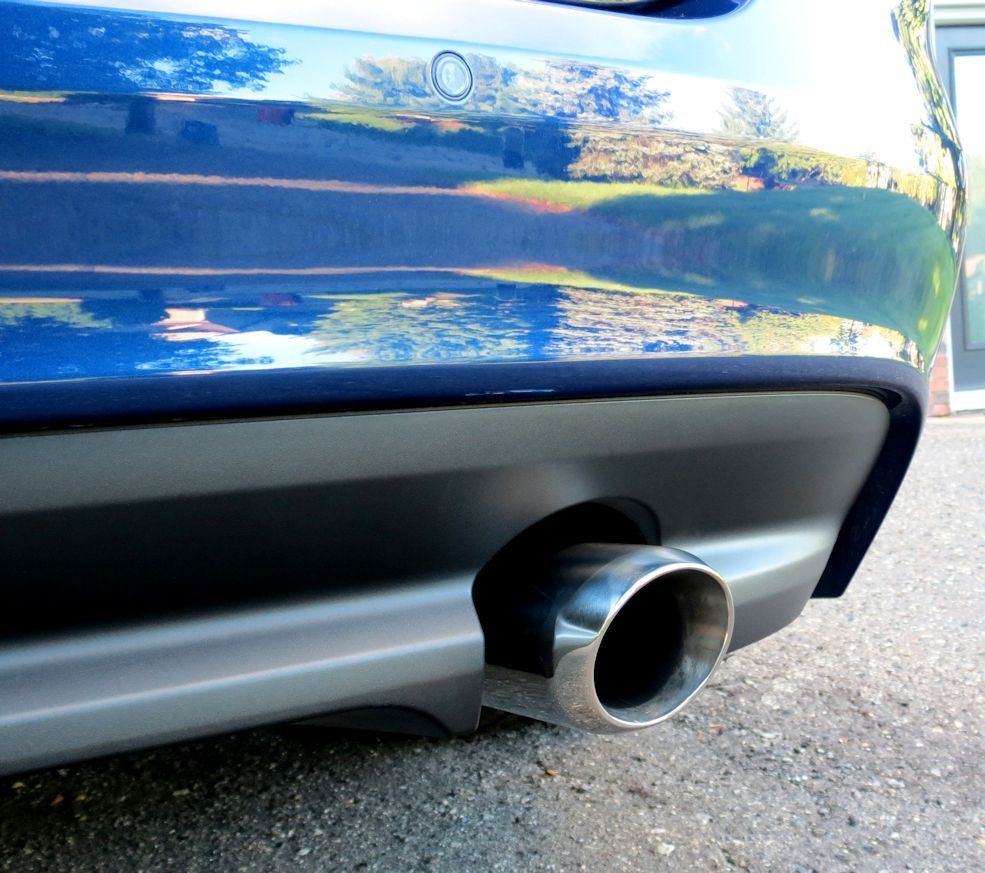 Ultimately my questions about durability will be answered over time. They are supposedly t304 stainless so we will see come next spring when I have to clean them up. They did arrive nicely polished without any real defects. Considering they are actually 2 pieces welded together to give the look of thickness, they at least seem to have some consistency. You can (and I did) examine the welds if you look inside the tube before you mount them It appeared to be a pretty neat and tidy job.
I think the polarizing part is the amount they extend out from the valance. Personally it says "custom exhaust" to me. I have had Eisenmenn, Remus, and some Borla on a couple domestics and they all seemed to stick out quite a bit farther than an OEM exhaust. Along with that, many of the custom BMW exhausts protrude a fair amount (some people on the BMW boards complain about it) so to me this is a similar look. I will eventually going after the shiny black painted "S" valance so that will change the look as well ... along with one additionally planned homebrewed mod that will compliment the length. The S valance is a different shape and will actually cover more of the tips. I did consider going for a set of the fancy new Akrapovic carbon fiber exhaust tips, but Alice will eventually have a few parts adorned with blue carbon kevlar (like my license plate frame) so the all black carbon fiber tips would not have been a good fit. They look very "BMW" to me to boot. For now I am happy with the look of Alice's hind end
.